In this blog, we will look at why people start to lose control when they start to ski steeper terrain. And what skills are needed to stay in control. So many skiers start to have issues once it gets a bit steeper and a lot of the time this is down to not ever being taught how to ski steep slopes. Many people think, as they can ski in control on a blue and red run, that they should be able to also ski on steeper reds and blacks. But it is not that simple! There are techniques and tricks to skiing steeper slopes. And if you do not get them taught, then you typically will not learn how to ski the steeper runs. What normally happens, is that you start your run and after 3 or 4 turns, you start to pick up speed. As a result you start to lean back, and then either stop to gain control and start again, or crash and then start again! Now, this is not a fun way of spending your time on the mountain, and one of our main goals is to make sure everyone can enjoy their time skiing.
 
Have you ever been taught to ski steeps slopes?

When we ski steep slopes, we have 3 essential skills we need to master:
1.    Edge control
2.    Foot rotation
3.    Upper and lower body separation
 
Mastering these 3 skills will help skiing steep slopes.
 
1.    Edge control
 
Lots of people talk about edging the skis, the more edge the better, etc. But what you need to master is edge control! This is how to flatten the ski's and let the skis slide, and then how to re-apply the edge. Most people find it harder to flatten the skis than they do to edge them, and finetuning this skill is even harder. So time is needed to practise and perfect this skill.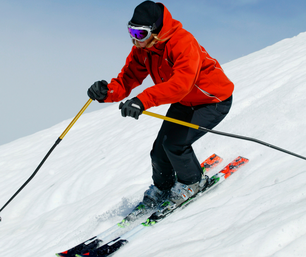 2.    Foot rotation
 
As we flatten the skis, we need to turn our skis by using foot rotation. If the skis are on an edge, it is not easy to make the feet rotate. This is why skill 1 is so important! We would now work on releasing the edge while turning the feet.
 
3.    Upper body and lower body separation
 
This is the skill of keeping the upper body facing down the hill, while our feet are able to rotate under the upper body. There are many ways to train this into your motor memory. Training this skill with different exercises and drills, will help your motor memory learn this new skill.
Working with a good ski coach will help you master these 3 skills, as they are not easy to learn alone.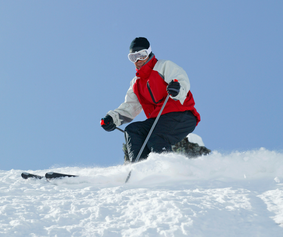 Finally, a bonus tip! The pole plant. If done correctly, a pole plant can help massively. We plant the pole in different places for different terrain, turns and obstacles. On steep hills, we plant the pole more down the hill. As this will also help with getting your body in a better position at the start of the turn, enabling you to stay in the centre of your ski and not ending up in a back position. If you are in a back position, you can not rotate your feet, which results in you picking up speed and could result in you going out of control.
If you are serious about taking your skiing to the next level, and mastering these 3 skills, then join one of our ski camps which are running throughout the winter. You will be skiing with like-minded people, with the main goal being your personal skiing development. So, are YOU ready to start skiing the steeps?
For more information on all of our camps click here